Description
Over 90% of today's dehumidifiers rely on traditional dehumidification technologies, i.e. desiccants or compression.
Desiccants use a blend of toxic chemicals to absorb air moisture. Once saturated they can no longer absorb further moisture and must be replaced. Refills can become quiet expensive over time and the discarded material remains toxic for centuries.
Compression technology is akin to that used in radiators. Compression coils filled with liquid coolant condense moisture into liquid. It can be noisy, bulky, heavy and the coolants are often toxic.
The Maestro Dehumidifier utilises TEP technology (ThermoElectric Peltier). Developed in South Korea, TEP technology utilises electric currents as alternatives to toxic coolants and DC electric currents as alternatives to compressors. Absolutely no toxins or coolants required, just clean, smart and highly efficient technology.
Air passes over the insulated cold of an electrified heated disc. Trapped air moisture condenses into water, dripping into a holding chamber. The now dry air is released back into the room.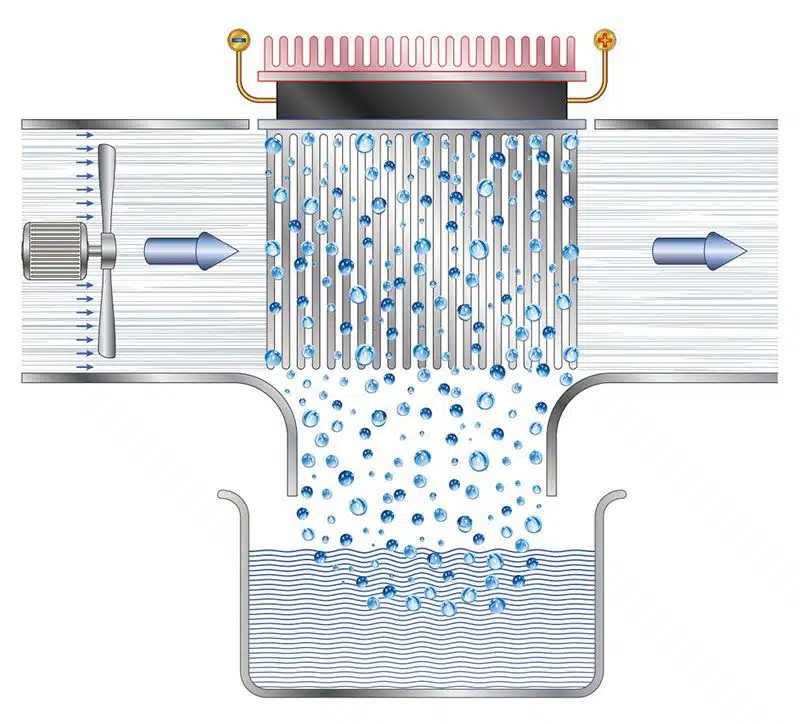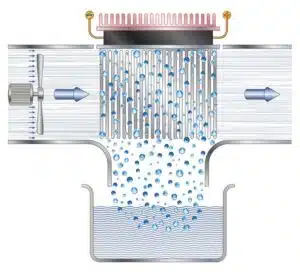 ThermoElectric Technology (TEP).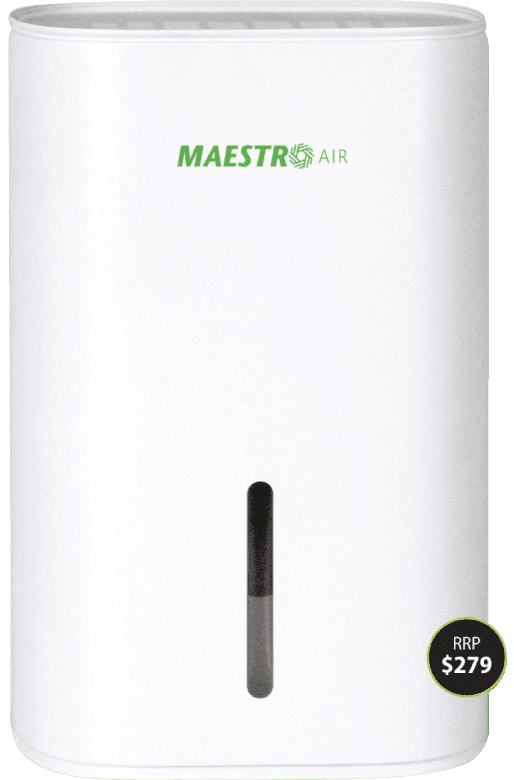 Features & benefits
Maestro Air Dehumidifier is highly effective, compact and lightweight. Move it from room to room, or from home to caravan.
The dedicated 800ml detachable moisture extraction chamber incorporates a built-in auto shutoff function for safety.
Maestro Air Dehumidifier is easy to clean, maintenance free and best of all keeps any room moisture and damp free, the key to mould-free environments.
For ultimate protection from damp and mould, pair the Maestro Air Dehumidifier with one of the Maestro Air air purifiers, either the larger home Air Purifier, or for smaller spaces (like caravans and motor homes), the Maestro Nimbus portable air purifier, and run them in unison: Maestro damp extraction plus air purification powerhouse.
Specifications:
Specifications: Dimensions: 15.8 x 13.6 x 23.7 cm
Weight: 1 kg
Power: 100-240V, 50/60Hz, 24 Watts (+,- 10%)
Tank Capacity: 0.8L
Dehumidifying Rate: Approximately 300ml/day (@30 degrees Celsius and 80% RH)
Choose Maestro Air Mini Dehumidifier for a safe, quiet, and effective solution to eliminate excess moisture and create a mold-free environment. Breathe safe and easy with our chemical-free technology.