Maestro Nimbus air purifier
Introducing the Maestro Air Nimbus: A Powerful and Portable Air Purifier
Experience pure, clean, and fresh air wherever you go with the new Maestro Air Nimbus. This portable air purifier incorporates intelligent technology, delivering the same level of filtration found in our home air purifiers.
Key Features of Maestro Nimbus Air Purifier:
Auto-detection of airborne contaminants for efficient purification.
Removes 99.97% of airborne contaminants, ensuring clean and healthy air.
Purifies 9-10 cubic meters of air, making it perfect for personal spaces such as desks, cars, restaurants, flights, and more.
Optional scent infuser for a pleasant ambiance.
Simple user controls and intuitive interface.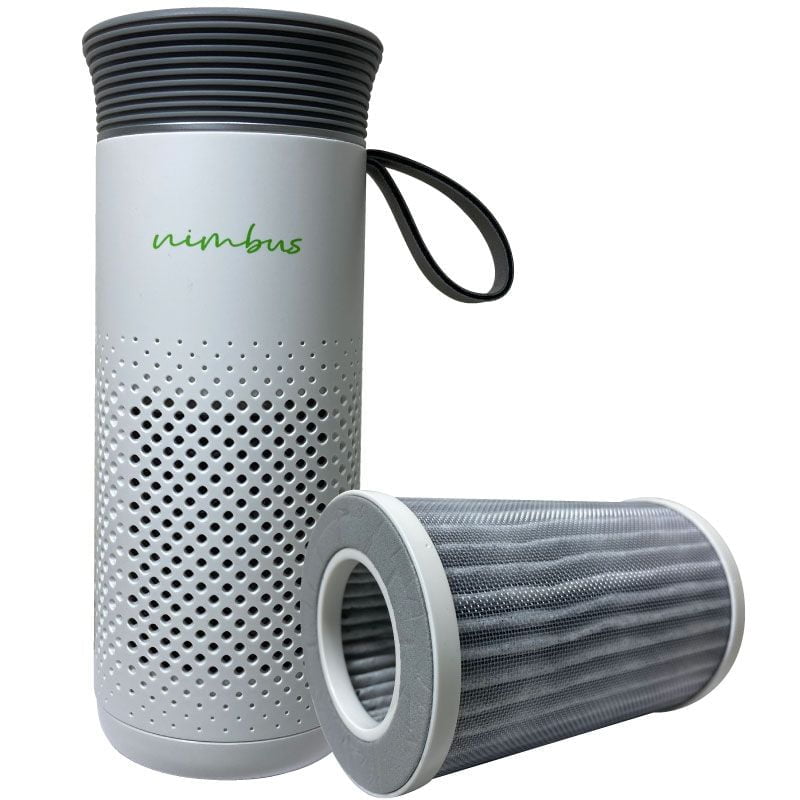 Nimbus portable
Small Yet Effective: The compact design of the Maestro Nimbus packs a punch. It offers multiple fan speeds, a powerful combination filter, UVC light, and a replace filter indicator. It can be powered by USB or rechargeable batteries for convenience.
Replacement filters
Replacement Filters: Ensure optimal performance by using the Nimbus replacement combination filter. This filter includes a prefilter, activated carbon filter, and HEPA 13 filter. When combined with the UVC light, it delivers exceptional air purification.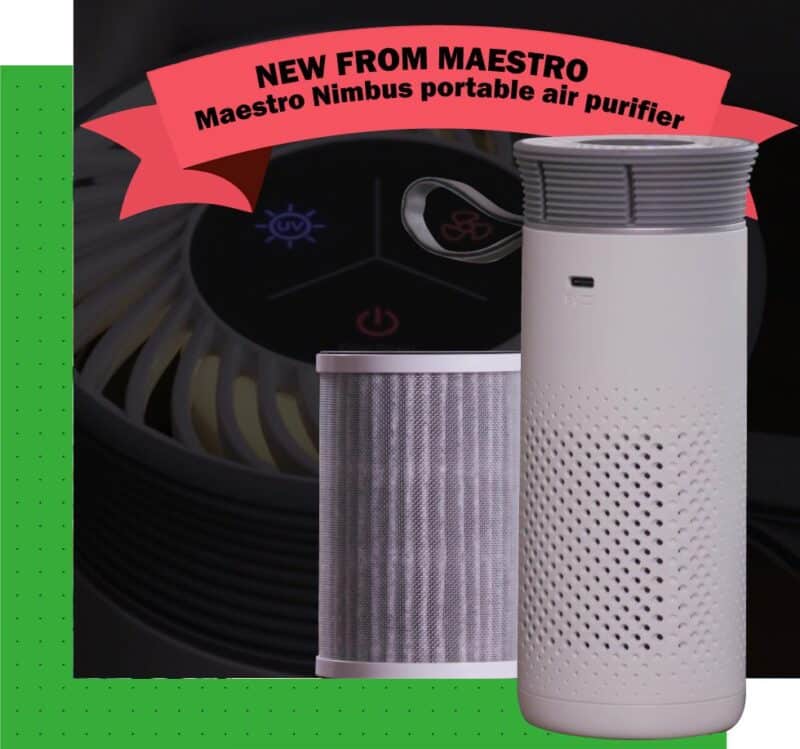 What our customers are saying
What is Nimbus?
Pure, clean and fresh air
The Maestro Air Nimbus is a powerful and portable air purifying unit. Nimbus circulates air in a 360 degree bubble, surrounding your personal space with clean and fresh air. With a simple and intuitive user interface, Nimbus is easy to use, compact and portable – the perfect travel companion.
Intelligent 4x stage filtration
Utilizing the same advanced technology as our home air purifier, the Nimbus offers intelligent 4-stage filtration. It features a prefilter to capture larger particles, a Granular Active Carbon filter for absorbing odors and VOCs, a HEPA-13 membrane for trapping viruses and microscopic particles, and a UVC light for targeted disinfection.
Stage-by-Stage Filtration:
Particulate / Prefilter: Collects larger airborne particles.
Granular Active Carbon (GAC) filter: Absorbs odors and VOCs.
HEPA-13 membrane: Traps viruses, mold spores, smoke, and microscopic particulates.
UVC light: Targets and disinfects contaminants trapped on the HEPA-13 surface.
Enjoy the benefits of purified air with the Maestro Air Nimbus, your ideal travel companion. Upgrade your personal space with its compact size and powerful filtration capabilities. Breathe easier and healthier wherever you are.
Replacement combination filter
The Nimbus replacement combination filter is both highly effective and easy to replace. It lasts up to 6 months (depending on air quality) and ensures consistent purification performance.
The Combination filter explained
Particulate / Prefilter
Collects larger airborne particles.
Granular Active Carbon (GAC) filter
Absorbs smells, odours and Volatile Organic Carbons (VOC's).
HEPA-13 membrane
Traps viruses, mould spores, smoke and microscopic particulates.
About Maestro
Maestro is a pioneering leader in innovative climate control solutions. With a relentless commitment to technological advancement, Maestro has revolutionized the way we experience comfort in our surroundings. Our cutting-edge products, including state-of-the-art misting fans and cooling systems as well as dehumidifiers and other moisture removal solutions, all chemical free. Maestro is focussed on creating refreshing environments for your comfort and health.