Description
Maestro micro-mist
Maestro's pressurised cooling system pumps water through the rotary atomiser, splitting water into millions of microscopic droplets, which remain airborne for longer periods. These droplets circulate throughout the air and absorb and remove trapped heat. This is repeated millions of times per minute.
Flash Evaporation Technology
When the microscopic atomised water droplets come into contact with hot air they flash evaporate and – in so doing – effectively consume/remove heat in the air.
Water droplets flash evaporate quickly and the atomised mist is so fine that no wet residue is left on surfaces.
Flash evaporation has been known to reduce the ambient temperature by 10-12 degrees.
Unlike fans that only circulate stale hot air in the room, or air conditioners that use significant amounts of electricity to cool down a room, which can take forever, Maestro absorbs and removes heat from the air instantly, effectively, and it doesn't require a closed environment.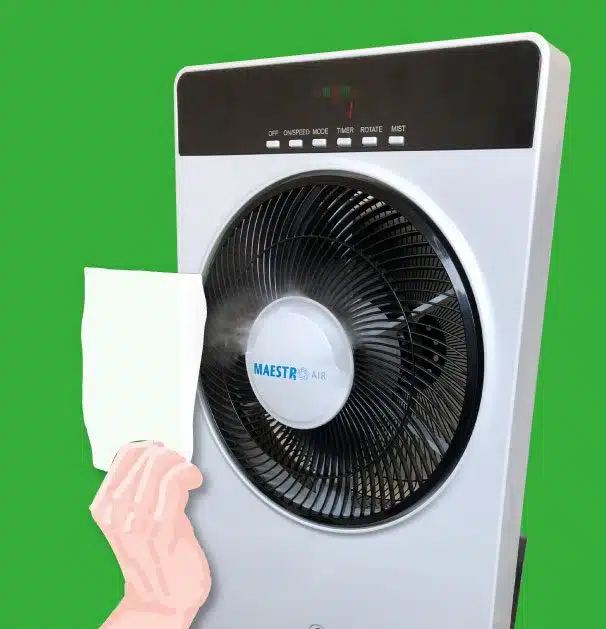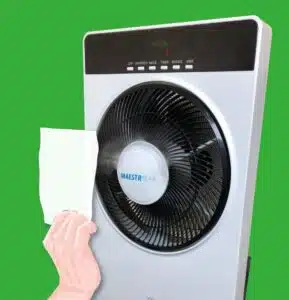 Stay cool, stay dry.
No wetness from the micro-mist.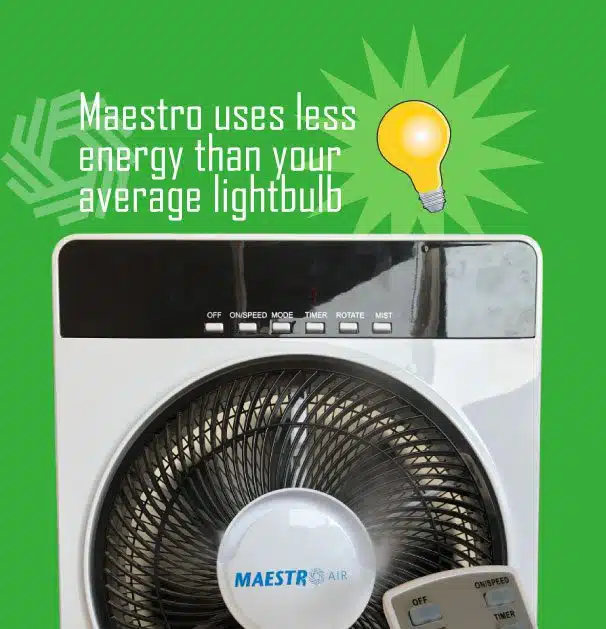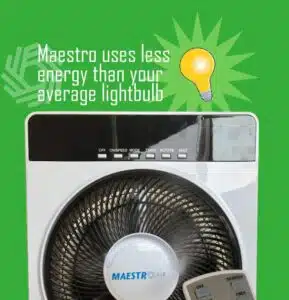 Stay cool, without breaking the bank.
Low power compared to air conditioners.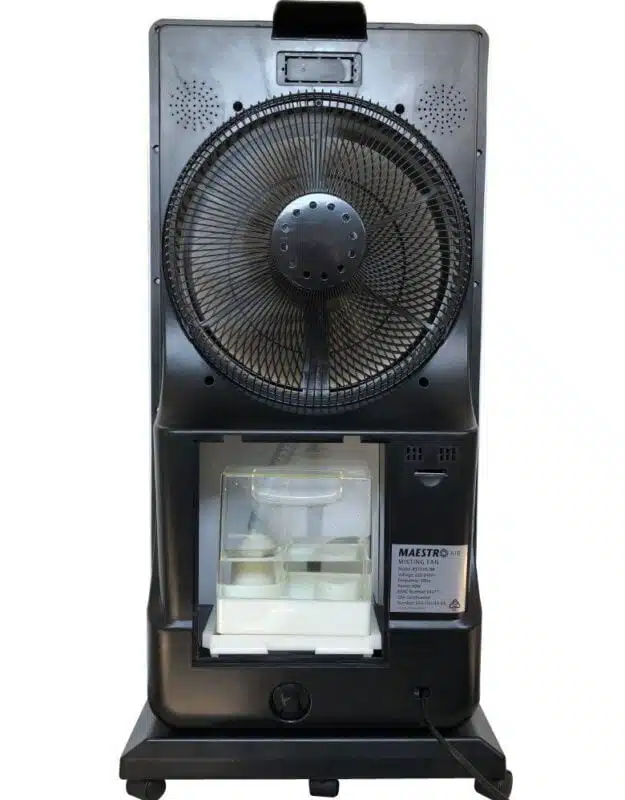 Features
3x Fan Speed Settings
Easy control over the fan speed via the unit or the remote. Varying fan speed options to suit your cooling needs. 300 mm wide fan for optimum air flow.
3x Operating Modes
Multiple operational modes in conjunction with multiple fan speeds to give you the control you want. Accessible from the unit or via the remote control.
Oscillation / Rotation Mode
Oscillator distributes the cooled air evenly; side to side, top to bottom, left to right, right to left. The oscillators wide coverage creates a "wind chill" style factor, cooling down a wider area in a shorter amount of time.
Misting Atomiser
The misting atomiser creates micro droplets, which remain airborne for longer periods and are easily flash evaporated – effectively consuming/removing heat in the air.
Insect Repellent Slot
The Maestro Misting Fan also includes a mosquito repellent slot where a mosquito pellet can be inserted. The pellet will slowly vaporise, emitting a fine, effective and odourless repellent which is then distributed by the fan, driving and keeping mosquitoes away, silently and is odourless.
Timer
Set the duration by hours for the desired running time of the unit.
12 month warranty
The Maestro Misting Fan is backed by a 12 month product warranty.
Specifications
Dimensions – 84.5cm × 26.5cm × 47 cm
Power – 220-240V, 50/60Hz, 55 Watts
Weight – 7.4 kg
Benefits
Effective cooling
Misting fans have been shown to achieve a drop of up to 10.4 degrees below the ambient air temperature.
Cool and dry
Water droplets flash evaporate quickly and the atomised mist is so fine that no wet residue is left on surfaces.
Low running costs
With a maximum output of just 90 watts of power, the savings are enormous compared to using an air conditioner! (2000 watts)
Fan mode uses just 55 watts.
Mist mode uses just 30 watts.
And insect mode uses just 5 watts.
Low noise
The Maestro Air Misting Fan remains as quiet as a standard fan and much more so than an air conditioning unit.
Portable
Being so lightweight and on wheels, Maestro is perfect for every room; the kitchen when your cooking, watching TV, in the bedroom, home office, patio when relaxing or BBQ area when entertaining.
Indoor and outdoor
Use Maestro Misting Fan indoors or outdoors; Unlike air conditioners; You don't have to close the room up, you don't have to shut the windows and you won't fall over when you get your power bill.
Upgrade your cooling experience with the Maestro Misting Fan. Enjoy the flexibility of adjustable fan speeds, versatile operating modes, efficient oscillation, and the refreshing misting atomiser.